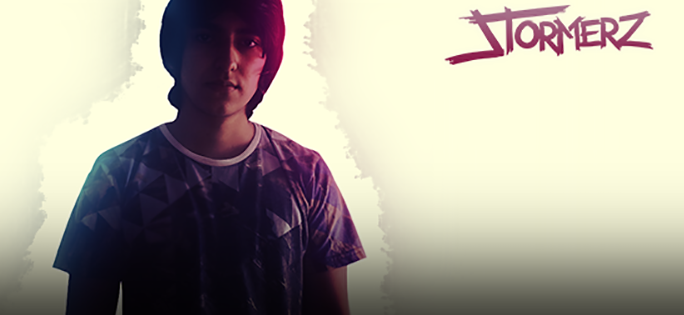 A chat with Stormerz about the hardstyle scene in Chile and Defqon.1
Fabian Quiroga, also knows as Stormerz, is one of Chile's best hardstyle talents. With several great tracks on his name he received the highest honor when Q-dance asked him to perform at the first edition of Defqon.1 Chile this year. We thought it would be the perfect opportunity to ask him some questions about his career and the Chilean hardstyle scene.
Hi Fabian, can you start by telling us something about the hardstyle scene in Chile. How is it?on
Good day, thanks for having me! The hardstyle scene here in Chile is non-stop getting bigger and bigger, it just grew explosive in a few years. The people here are truly dedicated to the music, we have a lot of sold-out national events (with national djs) where the people go crazy!

One thing I want to mention about the Chilean people is how supportive they are. The people are always supporting the national artists and I think that's one of the reasons we are having Defqon.1 this year for the first time. Also, it can't be a coincidence that most DJs says that Chile has one of the best crowds of the world! I know a lot of people who love Hard Dance Music haha. We even have some groups where everyone is kind of a family!
So how was the response when Villain announced Defqon.1 in Chile at the end of this year?
Everyone was really hyped about the new Q-dance event coming to Chile, as they announced at the last The Sound Of Q-dance, but we never actually believed that it was Defqon.1 We thought our crowd wasn't big enough for such an event as Defqon.1. But hey, everyone got an amazing surprise haha. We couldn't believe it!
We bet! And you've been given the opportunity to play there. How did that happen?
I would have never imagined this could happen. But yeah, it happened when I sent some demos to the 'Q-dance presents NEXT' label and I also showed MC Villain some of my tracks, which he liked. Days later, I woke up and reviewed my mail, and then I saw that I got an e-mail from Q-dance asking me to play at Defqon1. I just couldn't believe it.


Wow! That must have been an incredible feeling. Do you think this is the first step to greater things?
Let's hope! I'm working hard on a lot of new tracks and surprises for the show. One of them is that Vivianne, the singer who is working with me in my new track 'I Can Fly' and sung in my track 'I Need You', will join me on stage and sing live!
Cool! You're first performance and already making it something special. Have you ever been to Defqon.1 in Holland, or are you planning to do so?
I have never been to Holland, and well… it's not that easy to just travel haha. But of course I'd love to go someday!
We understand. So can you tell us a bit more about yourself? Who is Fabian and how long have you been listening to hardstyle?
Well, Fabian is just a normal 18-year old guy who loves to make music haha. I've been listening to hardstyle for like four years now. It took me some time to discover it, because it wasn't popular here in that time. I remember that I was playing an online game and it had Hard Trance as background music, and I really loved it. Then I started to search for more music and found the first Hardstyle track I ever heard: "Geck-o – It's What We Are (Headhunterz Remix)". That masterpiece got me definitely into hardstyle. One year later, I started to produce.
Nice, sounds like you're very dedicated! Can you tell us who your hardstyle heroes are?
I get a lot of inspiration from not only hardstyle artists but also producers like Deadmau5, Armin van Buuren, Avicii, Paul Oakenfold, etc. If we talk about hardstyle producers only, I really love Noisecontrollers, Headhunterz (Yes… I know he doesn't do hardstyle anymore but he's still an amazing producer), Wasted Penguinz and Atmozfears.
Why do you think that Q-dance has a special connection with Chile, because out of all places they choose your country.
I suppose it's because how crazy, powerful and dedicated our crowd is. We really save up money to go to the events, waiting the whole year to see our favorite artists. The hype on everyone is real!
How big is the chance for Chilean artists to go pro and make it a full-time thing?
I think that everyone has the chance. Everything is hard in life, and I see artists complaining that they can't "make it" because they aren't at the right place… If you want to get somewhere, you have to put almost all your time on it, goals aren't getting done themselves! I have to mention Tediz here, he's the only chilean DJ i know that left his job to do what he loves, that's the way! If you don't risk, you are going to get nothing.
By the way, I'm currently in university, studying Computer Programming haha.
Absolutely right! Sometimes you need to dare to take risks. Last question: Would you rather be on the mainstage of your favorite event, or make a track with your favorite producer?
Oh, that's a hard question, haha! I would obviously love to play at the mainstage of an event, but I think I'd rather make a track with my favorite producer, just because I'm kind more of a producer than a DJ!
Be sure to follow Stormerz online:
http://stormerz.com
https://facebook.com/stormerzmusic
http://instagr.am/stormerz_music
http://soundcloud.com/stormerzmusic
http://twitter.com/stormerzmusic
http://youtube.com/stormerzmusic