Octopus Festival brings the largest harder styles line-up ever to Spain
This summer, Octopus Festival will be organizing a weekend festival on the coast of Valencia. Spread over several stages, more than 100 artists from hardstyle and hardcore will perform here during the debut on the weekend from 9 to 12 July 2021.
READ: Project One & Ghost Stories about collaboration: "We've talked about doing a track together…"
Octopus Festival does not only have a huge line-up, with artists such as Headhunterz, Wildstylez, Radical Redemption, Phuture Noize, Angerfist, Sefa and many others. The location of the festival is at the beach, or as the Spaniards call it: Playa de Tavernes de la Valldigna. An ideal opportunity to make Octopus a holiday for a week, with sun, sea and festival with all the harder styles you need.
The organization of Octopus Festival is known in Spain for the gigantic productions of Medusa: an EDM festival with the biggest names and where Q-dance previously also provided a show on the mainstage. Now the makers are coming up with a multi-day festival, but then fully equipped with hardstyle and hardcore.
Holiday full of hardstyle & hardcore on the Spanish coast during Octopus Festival
Octopus Festival is scheduled for the 9th to the 12th of July 2021. For tickets, accommodation and more information, please visit the official event website.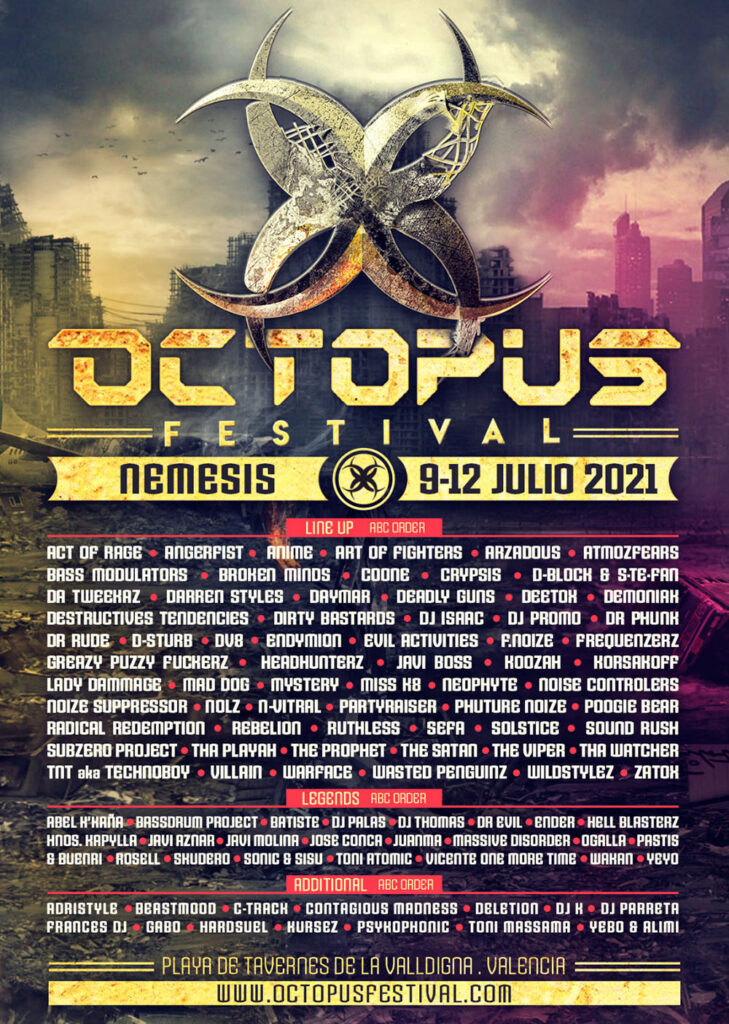 Octopus Festival 2021 line-up

Act of Rage
Angerfist
AniMe
Art of Fighters
Arzadous
Atmozfears
Bass Modulators
Broken Minds
Coone
Crypsis
D-Block & S-te-Fan
Da Tweekaz
Darren Styles
Daymar
Deadly Guns
Deetox
Demoniak
Destructive Tendencies
Dirty Bastards
DJ Isaac
DJ Promo
Dr Phunk
Dr. Rude
D-Sturb
DV8
Endymion
Evil Activities
F. NøIzE
Frequencerz
Greazy Puzzy Fuckerz
Headhunterz
Javi Boss
Koozah
Korsakoff
Lady Dammage
Mad Dog
Mystery
Miss K8
Neophyte
Noisecontrollers
Noize Suppressor
Nolz
N-Vitral
Partyraiser
Paul Elstak
Phuture Noize
Poogie Bear
Radical Redemption
Rebelion
Ruthless
Sefa
Solstice
Sound Rush
Sub Zero Project
Tha Playah
The Prophet
The SATAN
The Viper
Tha Watcher
TNT aka Technoboy 'n' Tuneboy
Villain
Warface
Wasted Penguinz
Wildstylez
Zatox

Abel K'Kaña
Bassdrum Project
Batiste
DJ Palas
DJ Thomas
Dr Evil
Ender
Hell Blasterz
Hnos. Kapylla
Javi Aznar
Javi Molina
Jose Conca
Juanma
Massive Disorder
Ogalla
Pastis & Buenri
Rosell
DJ Skudero
SONIC
Sisu
Toni Atomic
Vicente One More Time
Wakan
YeYo

ADRISTYLE
Beastmood
Bore
C-Track
Contagious Madness
Deletion
DJ K
DJ Parreta
Frances DJ
Gabo
Hardsuel
Kursez
Psykophonic
Toni Massama
Yebo
Alimi
Footage taken from Facebook page Medusa Festival