Rooler about his Phoenix Festival anthem and upcoming albums: "I needed to make sure it was good on every aspect"
On the 11th of May none other than Rooler will perform at Phoenix Festival, for which he has also created the official anthem 'Wild Pack'. To top it off, Christopher introduced a brand new label Aggressive Records and announced he'll release not one but two albums in 2019. We talked to Rooler about his Phoenix anthem, and this hell of a year!
'Wild Pack' for Phoenix Festival represents the creation of Rooler's very first big anthem. So, when he started creating the track, Christopher made sure it would stand out from any other anthems out there. "When I got asked to create this anthem, I immediately placed myself in the crowd, trying to imagine the scenario. What I wanted was a summer vibe kinda anthem, but with the typical Rooler kicks."
"The melody reflects the concept: the Rebels of the Road"
The brand new 'Wild Pack' fits perfectly with the feeling of Phoenix Festival. "The melody reflects what the concept is: the rebels of the road." To achieve this was quite a difficult process, according to the raw hardstyle producer. "To be fair, it's stressing… I spent way more hours creating this anthem than I normally do. But in this case I really needed to make sure it was good on every aspect! You don't want to let people down, right?"
The second edition of Phoenix Festival will take place on the 11th of May, where you'll be able to enjoy loads of different harder styles at no less than four stages. Especially raw hardstyle and uptempo will be very well represented at the festival, which according to Rooler is a perfect combination. "I think raw and uptempo have the same type of energy: straight, rough and in your face!" Christopher explains these two joined forces are not the only thing great about Phoenix. "The location is really cool as well, and the line-up truely is huge this year!"
"My album will be a mix of everything I like: party vibe, euphoric, raw and uptempo all together"
Rooler has been extremely busy in the studio lately. At the end of 2018, he announced he will release no less than two (!) albums in 2019. Quite the extraordinary decision! "Yeah I'm just trying to defeat the inner procrastinator that lives in me. Nah kidding, one will be Aggressive Act, the other will be Rooler." Christopher wants to show his vision on music with the two completely different albums. "The Rooler album will be a mix of everything I like, and I think deserves a spotlight. This means: party vibe, euphoric, raw and uptempo all together." The Aggressive Act album together with Malice will definitely be a lot harder. "We are absolutely showing our aggressive side…"
Christopher didn't stop at two albums and a brand new anthem: last month he also introduced the new label Aggressive Records, founded by Rooler and duo Malice. "We actually decided to start our own label in 2018, but because it was a really busy year already, we moved the whole thing in 2019. Many people think we had an argument with Gearbox but that's not true. We just wanted our own platform, our own marketing moves and deadlines." This is a very important aspect to the three men. "It's something that makes us proud, being able to do everything on our own!" 
The label will therefore offer exactly what Malice and Rooler always bring to the imaginary hardstyle table: "Diversity and freshness." Even though the label has just been founded, the men already have the two albums coming up. And they won't stop there: "We want to write history!"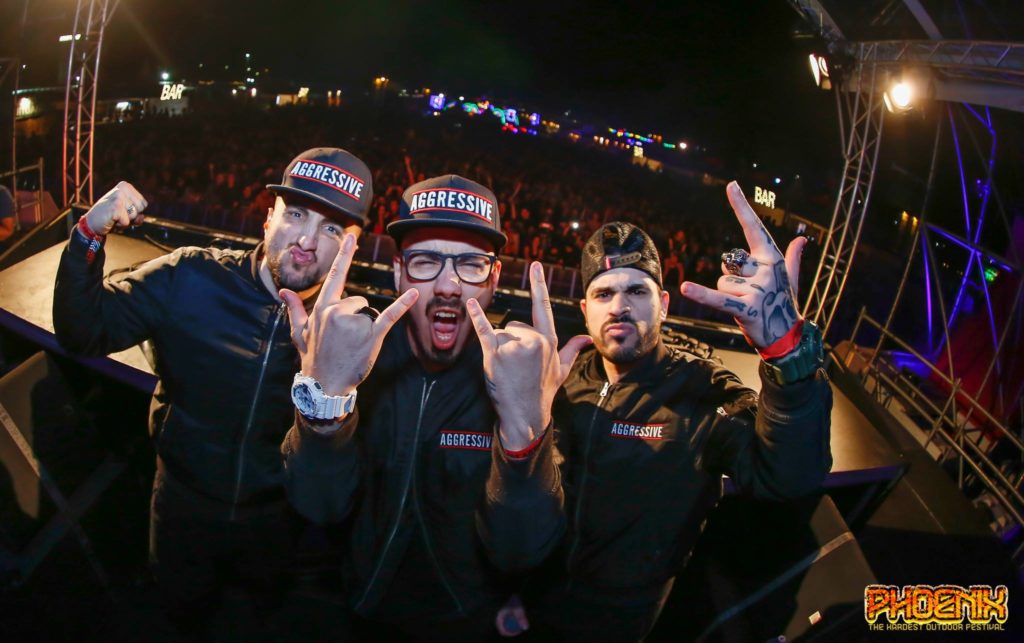 "I'm super cool, I swear x"
It would really be an understatement to say Rooler has a busy time ahead. Even though he cannot share all of his plans yet, we can definitely expect a lot from him in 2019. "I've got some very huge bookings which I'm proud of, I'm going on world tours and… Stalk me on Instagram to find out more." One of these bookings of course is Phoenix Festival, where Rooler will perform a live-set. "This means you can expect edits, album material, and a LOT of energy, as always!" 
So why do you definitely have to visit Phoenix as well? "The festival already proved to be a huge happening, and this year will be bigger and even better! And why should you visit my set, well, because I'm super cool, I swear x."
Phoenix Festival 2019 – Rebels of the Road will take place on the 11th of May at the Rekken in Nuland. Tickets for 'The Hardest Outdoor Festival' are still available via the official website of the event. 
Footage via Facebook-page Footworxx