Allround festival app Woov has been launched
The festival season has started and Woov is ready to reveal its powers to the universe. Woov is a free festival application developed by festival lovers, for festival lovers. After years of experience at festivals they decided to design a swiss army knife application to solve all problems that can ruin a wonderful day.
The product is designed around an interactive map that enables the users to locate their friends real-time, check out who is playing at which stage and find their favourite hot-dog stall. No longer will they need to meet "somewhere 40 meters in front of the outer right part of the mainstage" or "next to the tall guy in the blue shirt at the 3rd bar left from the entrance" – Woov is there to help.
Woov is designed for its users but they realise that communication between the festival organisers and their visitors is key as well. Therefore they have included a suite of options for the organiser to improve their festival set-up, get in touch with their visitors and altogether improve the the festival experience.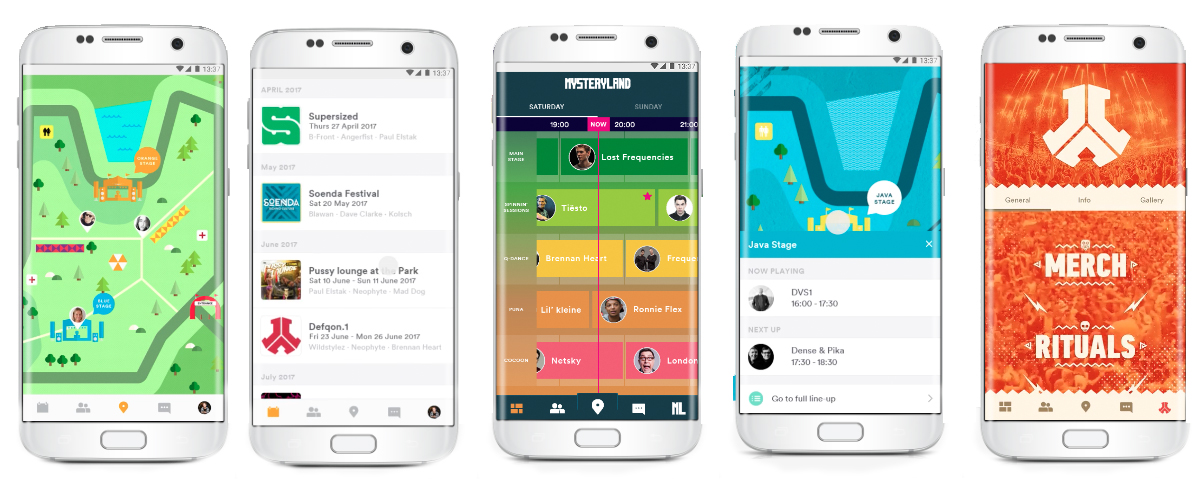 Woov originated from passion and love for festivals and the people attending them. It is a social application that focuses on both improving existing social relationships as well as establishing new ones. On the 26th of April, Woov was presented to the Netherlands one day ahead of its national celebration of Kingsday.
Concept
Within the Woov environment an in-app area for each festival is reserved. Therefore you will only have to download the information for festivals which you are actually attending, which saves valuable storage space.
Festival Calendar
Find your favourite festival by searching all festivals in the Netherlands by artist, venue, region, date, etc. All basic festival information is presented in a clear and concise way.
Interactive Map
Tired of losing your friends and spending valuable festival time searching for them..? Woov allows you to locate your friends on an interactive map so you will be able to be reunited with your squad in no time. Furthermore, the map displays where you can find stages, bars, special attractions, food carts etc
Timetable
Never miss your favourite artist again. With the Woov timetable you will always have the overview of who is playing when and where. Set your favourites in order to personalize your festival planning and Woov will send you a reminder when you need to get moving.
Channels
Get updates from the festival organiser via news feeds in the Woov app. Interact with them to stay informed on travel options, special acts, afterparties, etc.
Discover mode
Find the love of your life or your future ex. Discover mode let's you connect, chat and meet with linkminded people at any festival.
Where to use Woov
This festival season, woov is planning to leave its mark at the Netherlands' largest and most influential festivals. Be sure to use the Woov app at Loudfest, Defqon.1, Free festival, Pussy lounge, Decibel Outdoor, Ground Zero, Qbase and many others
Download
You can download the Woov app for both Android and iOS in the app store. Follow the following links:
iOS: http://bit.ly/HardnewsIOS
Android: http://bit.ly/HardnewsAndroid