Malice presents line-up for his new show: 'Malice in Wonderland'
After various highlights – such as album party The Extreme, the stage hosting on Fatality and a set on the Defqon.1 BLUE – Malice will launch a brand new concept on 21st of March 2020: Malice in Wonderland. "Go down the rabbit hole and experience an event themed as the ultimate harder styles fairytale."
ALSO READ: Malice is splitting up: "Double the Madness"
Malice in Wonderland will take place in the Central Studios in Utrecht, also the location for the Gearbox anniversary event. The organisation told fans "you will once again be able to enjoy a great sound system, and the location will be transformed into a harder styles fairytale." By now Suppression has also announced which artists will join Malice this evening. Have a look at the full line-up down below.
This is the complete line-up for Malice in Wonderland:

Fraw
High Voltage
Malice LIVE
Monkey Bizness
Physika
Rebelion
Rejecta
Riot Shift
Sins of Insanity
Thyron
Trojan
MC Focus
Central Studios will be transformed into a fairytale like wonderland
Ticket sales for Malice in Wonderland will start on the 6th of January at 18:00. Tickets will be available via the official website of the event, which will take place on the 21st of March in the Central Studios in Utrecht. To be kept updated on the latest Malice in Wonderland news, keep an eye on the socials.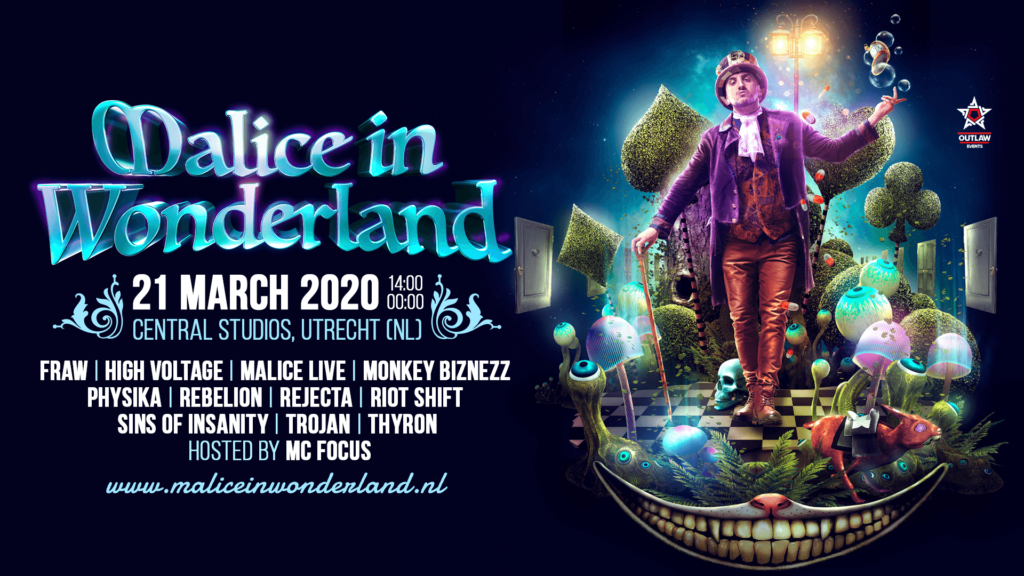 Footage via Facebook-page Fatality