The Qontinent maakt indruk met enorme line-up: "Forever Burning"
The Qontinent maakt zich klaar voor de komst van 30.000 ravers op het grootste hardere stijlen festival in België. Meer dan 150 van de grootste artiesten zullen drie dagen lang neerstrijken op het eiland (dat we kennen als één van de mooiste locaties) en de line-up is nu eindelijk bekend. "Will you answer its call?"
LEES OOK: 'Een weekendje The Qontinent is voor iedere liefhebber een dikke aanrader'
Het is alweer 15 jaar geleden dat The Qontinent voor het eerst werd gehouden en sindsdien is het uitgegroeid tot één van de grootste mijlpalen van de zomer. Als eerste weekendfestival ooit binnen de hardere stijlen bouwen organisaties Bass Events en Q-dance samen aan een uniek feest: met die imposante mainstage en de unieke sfeer die bezoekers van over de hele wereld naar Oost-Vlaanderen trekt.
Jaarlijks overtreft The Qontinent zichzelf met de line-up en ook dit jaar is het weer gelukt. Met 13 stages verspreid over drie dagen vind je hier de meest gewilde acts en speciale liveshows uit de Hardstyle, RAW, Tek, Freestyle en Hardcore (en nog heel veel meer). Met onder andere Da Tweekaz, Angerfist, Sound Rush, Sickmode en vele anderen – check The Qontinent 2023 line-up hieronder.
"Igniting a fire deep within the hearts of the chosen"
The Qontinent – Forever Burning wordt gehouden vanaf vrijdag 11 tot en met zondag 13 augustus op het Recreatiegebied Puyenbroeck in België. Tickets en meer informatie zijn verkrijgbaar via de officiële website van het festival.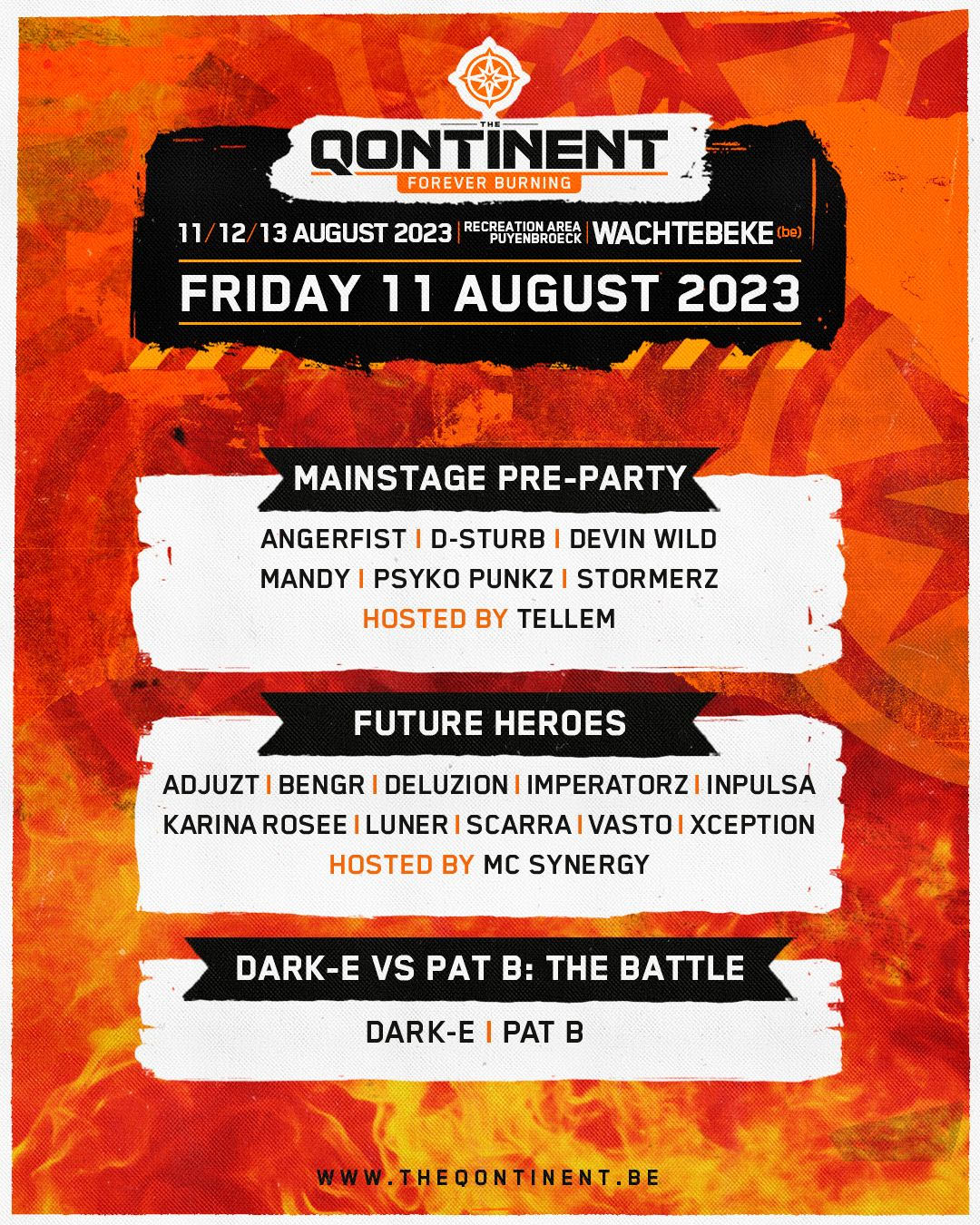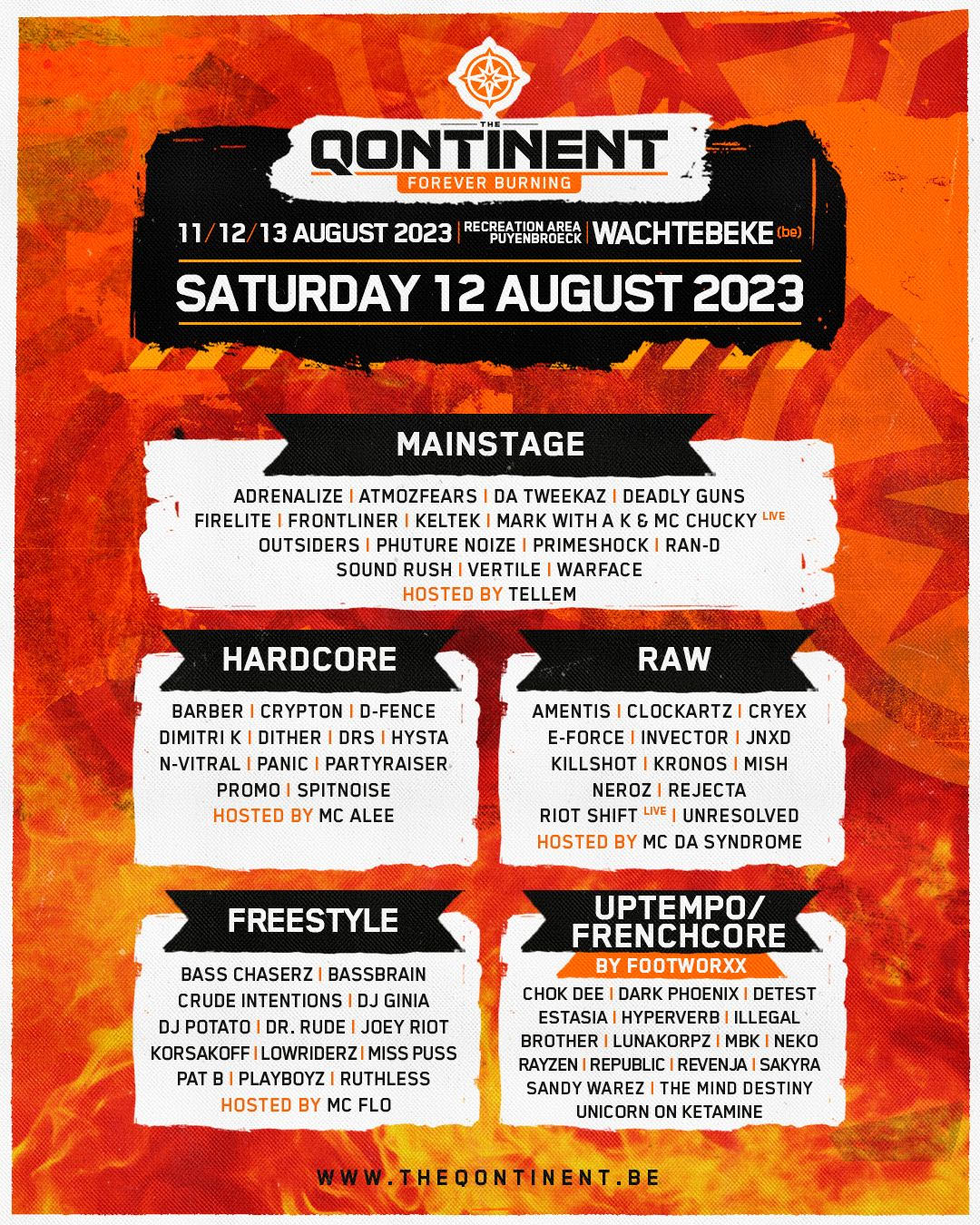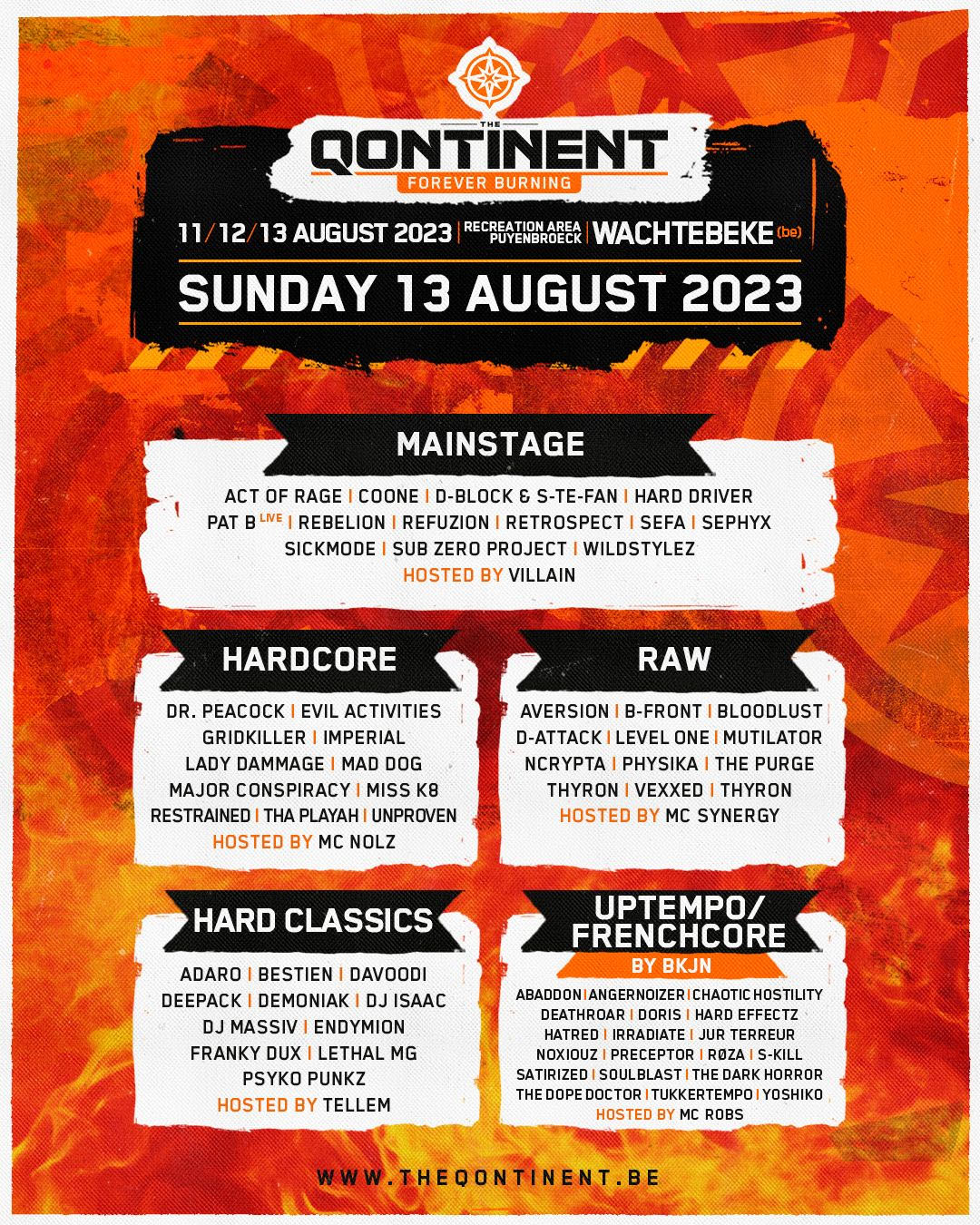 The Qontinent 2023 line-up
Vrijdag
MAINSTAGE PRE-PARTY
Angerfist
D-Sturb
Devin Wild
Mandy
Psyko Punkz
Stormerz
Hosted by Tellem
FUTURE HEROES
Adjuzt
BENGR
Deluzion
Imperatorz
Inpulsa
Karina Rosee
Luner
Scarra
Vasto
Xception
Hosted by MC Synergy
DARK-E VS PAT B: THE BATTLE
Dark-E
Pat B
Zaterdag
MAINSTAGE
Adrenalize
Atmozfears
Da Tweekaz
Deadly Guns
Firelite
Frontliner
KELTEK
Mark With a K & MC Chucky LIVE
Outsiders
Phuture Noize
Primeshock
Ran-D
Sound Rush
Vertile
Warface
Hosted by Tellem
HARDCORE
Barber
Crypton
D-Fence
Dimitri K
Dither
DRS
Hysta
N-Vitral
Panic
Partyraiser
Promo
Spitnoise
Hosted by MC Alee
RAW
Amentis
Clockartz
Cryex
E-Force
Invector
JNXD
Killshot
Kronos
Mish
Neroz
Rejecta
Riot Shift LIVE
Unresolved
Hosted by MC Da Syndrome
FREESTYLE
Bass Chaserz
Bassbrain
Crude Intentions
DJ Ginia
DJ Potato
Dr. Rude
Joey Riot
Korsakoff
Lowriderz
Miss Puss
Pat B
Playboyz
Ruthless
Hosted by MC Flo
UPTEMPO/FRENCHCORE BY FOOTWORXX
Chok Dee
Dark Phoenix
Detest
Estasia
Hyperverb
Illegal Brother
Lunakorpz
MBK
Neko
Rayzen
Republic
Revenja
Sakyra
Sandy Warez
The Mind Destiny
Unicorn On Ketamine
Zondag
MAINSTAGE
Act of Rage
Coone
D-Block & S-te-Fan
Hard Driver
Pat B LIVE
Rebelion
Refuzion
Retrospect
Sefa
Sephyx
Sickmode
Sub Zero Project
Wildstylez
Hosted by Villain
HARDCORE
Dr. Peacock
Evil Activities
Gridkiller
Imperial
Lady Dammage
Mad Dog
Major Conspiracy
Miss K8
Restrained
Tha Playah
Unproven
Hosted by MC Nolz
RAW
Aversion
B-Front
Bloodlust
D-Attack
Level One
Mutilator
Ncrypta
Physika
The Purge
Thyron
Vexxed
Thyron
Hosted by MC Synergy
HARD CLASSICS
Adaro
Bestien
Davoodi
Deepack
Demoniak
DJ Isaac
DJ Massiv
Endymion
Franky Dux
Lethal MG
Psyko Punkz
Hosted by Tellem
UPTEMPO/FRENCHCORE BY BKJN
Abaddon
Angernoizer
Chaotic Hostility
Deathroar
Doris
Hard Effectz
Hatred
Irradiate
Jur Terreur
Noxiouz
Preceptor
Røza
S-Kill
Satirized
Soulblast
The Dark Horror
The Dope Doctor
TukkerTempo
Yoshiko
Hosted by MC Robs
Omslagfoto via Facebook-pagina The Qontinent