Into The Madness expands Germany's largest harder styles festival even further
Into The Madness is taking Germany's largest harder styles festival to the next level. After its successful debut last year, it has just announced its impressing line-up: featuring 44 of the best artists across 3 areas, an even bigger RAW tent, a brand new Uptempo area and much more. "Our nomadic tribe is coming back!"
READ ALSO: "Germany finally got the harder styles festival it deserved"
Last summer, Into The Madness made a big impression with the largest 100% Hardstyle festival in Germany. The highlight of the German festival summer was finally set at a mega beautiful location: thousands of visitors enjoyed the best of the harder styles and an excellent endshow. After this successful debut, the organization Musical Madness is now going even harder with new additions and a huge number of specials.
Into The Madness pulls out all the stops and has 6 exclusive live shows and 6 hard back2backs this year. Think of the imposing mainstage (including Gunz For Hire 'Baddest on the Block', Headhunterz and Rebelion vs. Warface), but also of the RAW tent (which has been expanded and now has Adjuzt (NXTGEN), Cryex vs Scarra vs Vasto (APEX Allstars) and The Purge (TRIPPIN') on stage. "We can't wait to open the gates to our harder styles playground for the second time."
Into The Madness 2023 line-up
MAIN
B-Front ‣ DJ Isaac ‣ Gunz For Hire (Baddest On The Block) ‣ Headhunterz
‣ Rebelion vs Warface ‣ Rooler ‣ Sickmode ‣ Sound Rush ‣ Sub Zero
Project ‣ TESFY ‣ Vertile ‣ Hosted by Villain
RAW
Adjuzt (NXTGEN) ‣ Anderex ‣ Aversion (Live) ‣ Cryex vs Scarra vs Vasto
(APEX Allstars) ‣ Deezl vs So Juice (Cybergore) ‣ Dual Damage ‣ Element
vs Kruelty ‣ Exproz ‣ Imperatorz (IMPAKT) ‣ Mutilator ‣ Revelation vs
Spectre vs Code Crime ‣ The Purge (TRIPPIN') ‣ Unresolved ‣ Hosted by MC
Synergy
UPTEMPO (by Inurfase)
Abaddon vs Jur Terreur ‣ Barber ‣ Dr. Donk vs Dr. Z ‣ Juliëx – Lunakorpz
‣ Samynator ‣ Spitnoise ‣ Trespassed ‣ Hosted by MC No-ID
If you want even more BPM, Into The Madness has a brand-new Uptempo stage (hosted by Inurfase), where you will find Spitnoise, Trespassed and many others. The rest of the beautiful festival site will receive an upgrade: with an even larger beach area and a larger food court. There's also yet an anthem maker to be announced… Into The Madness will close off the festival season in style.
Musical Madness is going all out for the 2nd edition of Germany's largest harder styles festival: 44 artists & 3 areas
Into The Madness 2023 will be held on Saturday 02 September at the beautiful Seepark Zülpich in Germany. For tickets and more information, visit the festival's official website. "Nomads, will you enter our land of lunacy once again?"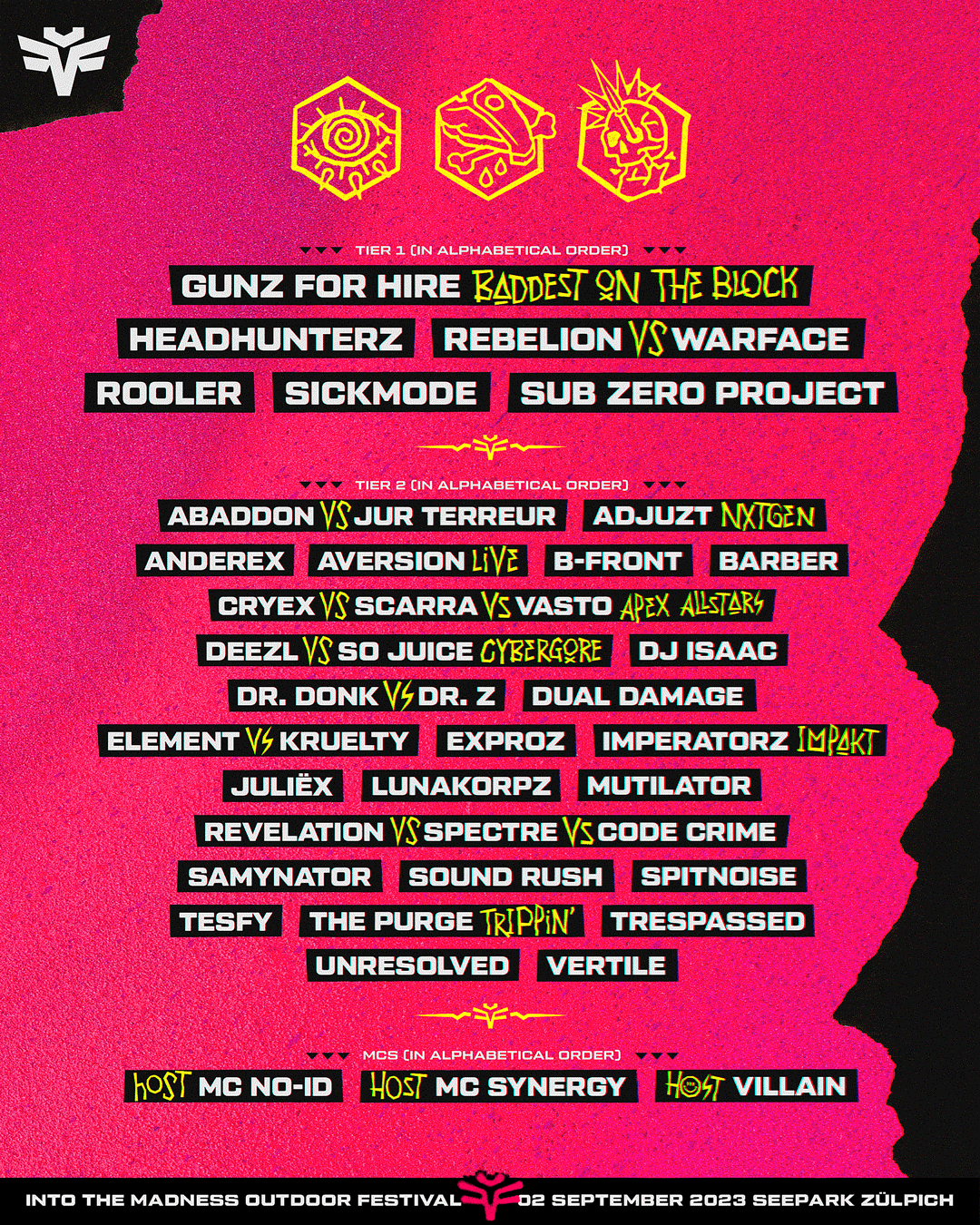 Footage taken from Facebook page Into The Madness