WiSH Outdoor presents line-up of new exclusive festival: "The Start of a New Adventure"
The well-known WiSH Outdoor will present a one-time exclusive festival this year. The Start of a New Adventure will consist of three different hardstyle stages and is therefore one of the first parties in the Netherlands to announce the line-up for this fall.
READ: "WiSH Outdoor is one of the most decorative festivals out there"
Normally, WiSH Outdoor takes place in the middle of the summer, but because the organization still wants to create something for the loyal visitors, you can still attend a festival in October. "After this corona period, the urge for adventure is so big that we are proud to announce a unique two-day once in a lifetime edition: WiSH Outdoor presents: The Start of a New Adventure…", the festival explains. This means an intimate setting, but with at least as much show and line-up quality as you are used to from them.
The Saturday of the festival (the 23rd of October) is all about hardstyle, with three different areas. Think of a big mainstage and unique B2B's (such as E-Force vs. Rejecta), a stage full of talent and a hosting from Zany. Whether you like euphoric hardstyle, classics, freestyle or raw: this unique and one-off festival has it all. The biggest names and the biggest live acts. Check out the lineup below!
WiSH Outdoor presents: The Start of a New Adventure line-up
Mainstage
Radical Redemption • Act of Rage LIVE • B-Front vs Phuture Noize • Sub Zero Project • E-Force vs Rejecta • Audiotricz • Adrenalize vs Demi Kanon • Vertile • Jones • Hosted by MC DV8 • & More TBA
The Machine
Sub Sonik vs Deluzion • Killshot • Voidax vs Invector • The Purge • Bloodlust • & More TBA
Tipsy Pub
hosted by Zany
Line-up TBA
'Enjoy the biggest hardstyle artists at an exclusive festival this year'
WiSH Outdoor presents The Start of a New Adventure will take place on the 23rd and 24th of October 2021 at the Bavaria Brewery in Lieshout (The Netherlands). Tickets will be available tomorrow (Friday the 27th of August) from 12:00 CET via the event's official website. Are you also a fan of other styles such as pop and dance? Check out the second day of the festival.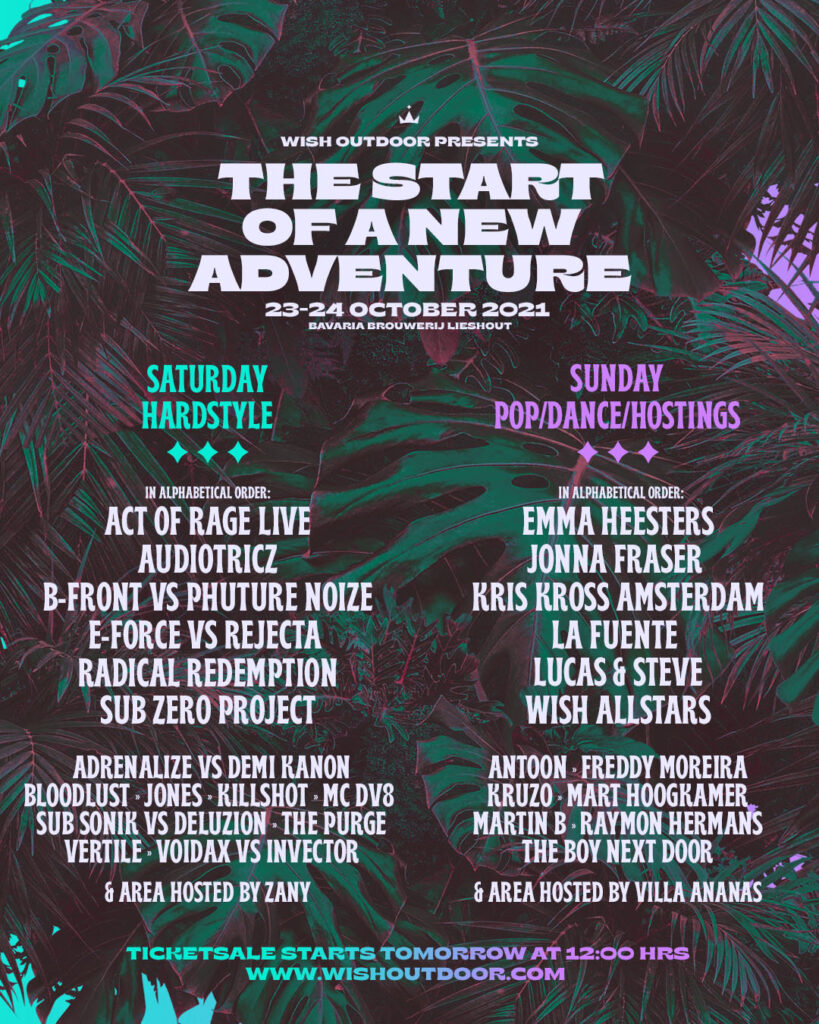 Footage taken from Facebook-pagina WiSH Outdoor